An effective hotel management structure is a plan defined and designed by the hotel owner or management.  It relates to the various departmental functions and responsibilities within the organization.  Hotels, like every other organization, needs to have some structure in order to have some order.
Every aspect of the operation needs to be considered.  This structure helps attain maximum operational performance and profit.  A hotel, regardless of its size and manpower, can run efficiently as long as there an established hotel management structure.  This is particularly true if everyone understands it.  But how do you set up an effective hotel management structure?
Establish the Organizational Objectives
In order for a hotel management structure to work, organizational objectives should be clearly defined and established.  The objectives will help determine the kind of structure that the company needs.  They respond to the internal and external needs of the hotel.  It will be easier to determine how to address these needs if the objectives are clearly defined.
The hotel may schedule weekly meetings in order to discuss with various departmental heads the various issues and problems affecting the department.  This is an example of an internal objective.  External objectives may involve human resource pooling goals or pricing schemes during weekdays or holidays.
Define the Chain of Authority within the Organization
A well-established hotel management structure will have clearly defined and described the chain of authority within the organization.  This is known as the "span of control".  This can involved either a wide span or a narrow span of control.  In the former, everyone within the structure is expected to report to the general manager.  This is not the case with the narrow spans of control.
Usually, authority and responsibilities are delegated, so not everyone has to report directly to the hotel's general manager.  One may have to go through department heads or supervisors who will address concerns and issues concerning their departments.
The size of the hotel may determine the kind of system it needs.  A small hotel may need a wide span of control while a bigger hotel may need the narrower kind.  In a small hotel, the general manager can easily oversee everything.   He is likely on the site overseeing the daily operations.  This is not the case, however, with a bigger hotel.  A narrow span of control is more appropriate.  This allows issues and problems to be address faster.  The general manager may find it hard to manage every aspect of the operation.
Clearly Define Departmental Duties and Responsibilities
Usually, there are five departments involved in hotel operations.  These are the Human Resource, Accounting, Marketing, Food and Beverage and Housekeeping.  It is important that the responsibilities and duties of each of these departments are clearly defined and understood.
It helps if the management creates an organization flow chart.  The hotel management structure is easier to understand if it is depicted in an organizational flow chart.  Of course, the structure will differentiate from one hotel to another depending on the size and needs of the hotel.  A small hotel, for instance, will likely only have a two to three-level flow chart.  The owner may be at the top, followed by the general manager and connecting to that level are the difference departments like the maintenance, housekeeping and reservations.  This is not the case, however, in bigger hotels especially chain hotels.  There are additional management levels that are not present in smaller establishments.  The flow chart may show four to five levels.
The organizational flow chart is crucial to establishing a hotel management structure with clearly defined responsibilities.  Each job title should be clearly stated with corresponding responsibilities.
Popularity: 1% [?]
Currently 0 comment - But what do you think?
If you are running a restaurant, it is very important that you know how to properly manage the operations and your employees. In truth, even chefs need to learn the concepts associated with proper restaurant management. Chefs open take up management positions in restaurants and hotels. Running a restaurant, however, is not easy. Therefore, it will benefit you if know how to go about administrating a restaurant
Make a Restaurant Management Plan
It doesn't matter if you own the restaurant or not – you still need to have a restaurant management plan which in effect will function as your business plan as well. When creating this plan, make sure that you have all aspects of the business covered. It should touch on all the important areas of your business. You also need to have a market research. It is also important that you have a financial plan as well. This should cover the cash flow forecast, competitor analysis and marketing strategies. You should also create human resource policies. All of these serve as your restaurant management plan and this will serve as your guide to success.
Know How to Market Your Business
If you want to have people coming into your restaurant, you should make sure that they know it exists! Restaurant management includes knowing how to properly market your product. You need to have a marketing plan as well and this should be thorough or comprehensive. You can get the assistance of experts when it comes to marketing.
Establish a Restaurant Management Budget
Every good manager knows that a budget is crucial to restaurant management. It doesn't matter what kind of restaurant you are running – you need to have a budget. You need to determine how much you would be willing to spend for a forecasted income. If it is possible, you should create a budget for the whole year. There are many benefits to doing this. First of all, you will have a thorough understanding of the business cash flow. You would have an idea how the money will flow.
Learn to Ask for Assistance
As a manager, you don't have to be infallible. In fact, you will commit mistakes and there will be times when you would need the assistance of experts. Do not hesitate to ask for help when you need to. Do not hesitate to admit ignorance or lack of knowledge. You will certainly succeed if you recognize your limitations and seek assistance for things that you cannot handle doing alone. This is part of restaurant management.
Managing a restaurant can be challenging, but it can be exciting as well. You need to know the concepts of restaurant management if you want to be successful.
Popularity: 2% [?]
Currently 0 comment - But what do you think?
'JK sez': never stop asking questions…… However there is one we need to ask ourselves even a whole lot more……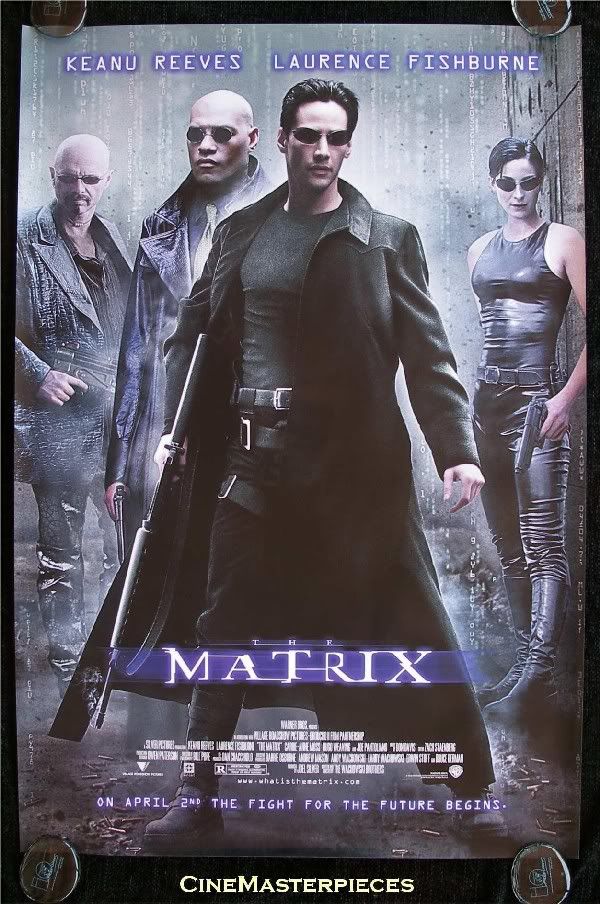 In the first Matrix film, there is a scene in a darkened night club where the character Trinity approaches the hero Neo. Loud music blasting away in the background, she comes close to him and says: "It's the question that drives us." "It's the question that brought you here." Later Trinity finishes the scene saying: "The answer is out there Neo. It's looking for you and it will find you if you want it to."
And to my understanding Trinity is correct: it is out there, the question as well as the answer. Even to that illusive question of: who was first the chicken or the egg? (for 'the lighter side' of that answer go to the end of the article). It is my understanding that: there is for every question an answer.
Many a times it is our own limitations which restricts us from finding that right answer. Nevertheless: be assured that the answer is indeed out there.
Many years ago on the eve of starting to run my first hotel GM job, I have been asked: 'how are you going to run this hotel?' My answer at that time (and it is till today still valid) remains remarkably simple: ''I use one word', I said, 'I ask: why? (in every situation).
Is it important to ask good questions? You bet it is very important, as effective use of proper questioning skills helps you to completely understand the situation you are dealing with. Effective questioning compliments your managerial skills as it indicates that you are committed to the other person's needs and that you are eager to source the real issues and wants. Questioning is a powerful skill which you can acquire by listening and listening.
To learn the insights to 'asking questions' click on to the link: JK sez more on questions whereby you will be taken to the "Take Away" section: Additional Insights – More and More Questions
You should really get to know these insights to 'asking questions' and 'leading with questions' as it will benefit you greatly in your career.
Having said all of that; the 'real thing', the main reason for me to write about questioning is to draw your attention to this particular question. One I have come to understand as 'very vital' to the benefit of our day to day dealings. Oddly enough though; this one is asked by far too few too seldom:
What is it that we need to stop doing?
First time I read about "Stop Doing" in "Good to Great" by Jim Collins. A marvelous management read which I dearly recommend getting your 'head around it' sometime. Jim Collins states that one of the commonalities of the companies who were able to propel themselves from being just good to being great is that they all looked at what they were currently doing that they needed to 'Stop Doing'. To "Stop Doing" can actually help your productivity and effectiveness.
Books by Jim Collins
Website of Jim Collins

In particular this question should be raised far more time seen from the Guest point of view. I have started using this question some years ago as part of our personal guest interview sessions and let me reassure you that it is one of the most interesting reply sections to read.
We, 'the professionals' think so many times that we know our industry so well. Whilst that in many a case is indeed a valid statement; it is without doubt equally to note that we fail equally often to involve our 'number one reason' for our business: 'THE GUEST' for their view of what we create, develop and design for our beloved hospitality industry.
A perfectly good example is the ongoing: 'amenity creep' seen across a variety of brands (particularly the budget and limited service hotel sector). Not only does this 'creep' bring many a time negative effect to the bottom line; moreover it is equally at times questionable if it is indeed a benefitting requirement to the guest.
Therefore: ask your Guest: what is it that we need to stop doing? I am sure your outcome will be as engaging as have been the ones I received since starting to ask this question. Once you get going on this routine; do as Alfred Einstein guides: 'the important thing is to not to stop questioning' therefore continue asking also to your other sources that same question: in particular to your team-members, your peers, your bosses, your counter-partners….. and lastly: ask yourself that question as well or maybe even better ask your loved ones that question about you…;-). By the way be ready to listen……. a lot.
'In my book' there is no st.p.d questions; only st.p.d answers by reluctant minds who do not wish to answer them. Remember: the one who questions: leads! To many times we let ourselves be directed by the answering part to it all; whilst it is the one who questions that leads. Pablo Picasso said it so correctly by stating: 'Computers are useless. They only give you answers'
Stay tuned for more 'JK sez' in the forthcoming week, as I am looking forward to share 'insights-with a twist' on a variety of topics such as: a follow up to 'questioning': 'listening' (an underrated management skill) 'handling time' (nopes not: 'time management'), 'values', the 'use of a positive mindset', and many more interesting tidbits.
Feel free to post your comments, feedback, questions or others in relation to the column; it will be good to see your response and you may also tell me what it is you want me to stop doing here (or what do you want me to write about) drop me an email at: jean@prochef360.com
=============================================
JK's Share ware:

GREAT READ:
Leading with Questions: How Leaders Find the Right Solutions By Knowing What To Ask
GREAT QUOTE:
Peter Drucker once said: 'The leader of the past was a person who told. The leader of the future will be a person who asks.'
GREAT LINK:
More than a New Year's Resolution: A Stop Doing List

GREAT LAUGH:

A lighthearted approach to answer that ultimate question of the 'chicken or the egg' ..:-)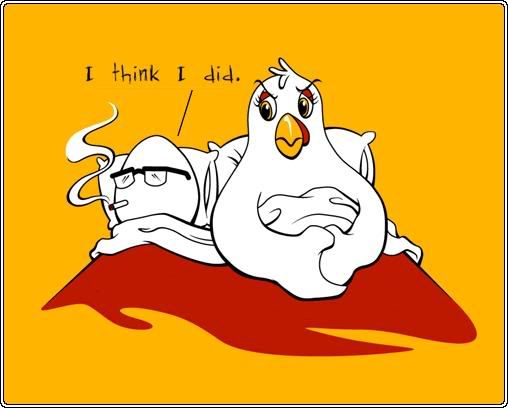 Popularity: 1% [?]
Currently 0 comment - But what do you think?